Bats Over Calero at Calero County Park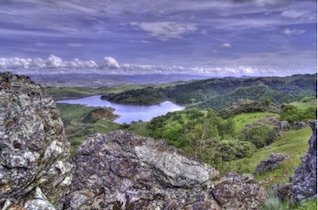 If you enjoy observing creatures in their natural habitats, Bats Over Calero at Calero County Park may be just the thing for you. On this tour, the Calero County Park rangers will be taking you on a guided van ride to Bat Inn, deep in the heart of the park.
The Calero County Park is a regional park with a variety of recreation areas and activities. The park primarily includes the Calero County reservoir, which offers a boat launch ramp and host of water activities during the summer, and the "back country" which includes a variety of plant and wildlife habitats.
At the Bat Inn, during the twilight hours, you can view thousands of bats as they emerge from the cave after sleeping through the day. Before the tour, there will be a presentation on the life and habitats of bats. Bring a flashlight, a folding chair or a mat and bug repellent. Dress in long pants and sturdy shoes. Please note that flash photography is not allowed on this tour. The tour cost is $15 per person. Making prior reservations for this tour is recommended. Call 408-535-4070.
When: July 13th, 2017 – 6:00 p.m. to 9:30 p.m.
Where: Calero County Park – 23205 McKean Rd San Jose, CA 95120
For more information visit: https://www.sccgov.org/sites/parks/parkfinder/Pages/Calero.aspx
/wp-content/uploads/2014/06/The-Swan-Trans-21.png
0
0
Therese Swan
/wp-content/uploads/2014/06/The-Swan-Trans-21.png
Therese Swan
2017-07-09 08:59:53
2017-07-09 08:59:53
Bats Over Calero at Calero County Park