December 2017 Almaden Valley Real Estate Market Update… 2017 ended on a high note for Almaden Valley real estate. The inventory of single family homes has been tight all throughout 2017, and our December numbers demonstrate the general trend we saw this past year: low inventory and brisk sales. Of course, we expect to see activity drop to yearly lows in December due to the holidays, and 2017 was no different. The number of homes offered on the market dropped dramatically as the last month of the year rolled past, from 15 in November to 9 in December. The number of homes that sold dropped from 25 to 21 and the number under contract from 23 to 18 during the same time frame.
However, when we compare December 2017 with December 2016, we get a pretty good indication of just how active the market was last year. There were over 18% more homes for sale in 2016, yet the number of single family homes under contract was 20% higher this past year, and the number sold was over 10% higher. Less inventory plus higher sales is a pretty solid indicator that Almaden Valley real estate remains in a strong seller's market, which generally translates into stable to increasing prices. And, this is indeed what has played out. December price per square foot was $670, a whopping $74 higher than November's $586 and a decidedly healthy increase over the $614 we saw December 2016. In fact, December's price per square foot is the highest we've seen it in over five years.
Is the timing right for you? Give me a call!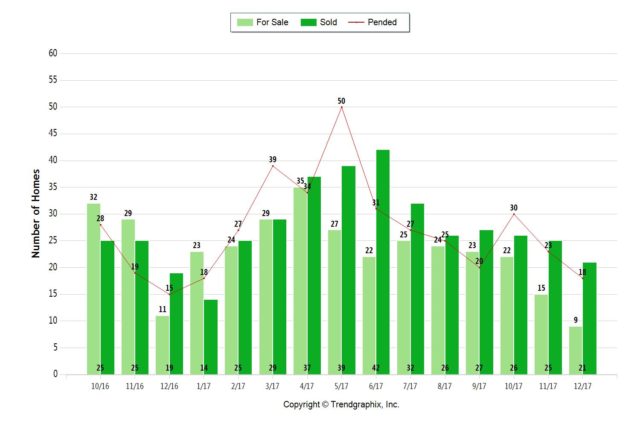 /wp-content/uploads/2014/06/The-Swan-Trans-21.png
0
0
Therese Swan
/wp-content/uploads/2014/06/The-Swan-Trans-21.png
Therese Swan
2018-01-19 17:21:18
2018-01-19 17:21:18
December 2017 Almaden Valley Real Estate Market Update