January 2019 Almaden Valley Real Estate Market Update
January 2019 Almaden Valley Real Estate Market Update… Almaden Valley single family home sales are coming out of the sleepy holiday season as January statistics show. The number of homes on the market increased slightly from 14 in December to 15 in January, but the number of homes under contract jumped over 33%, from 9 to 12 over the same time period.
When comparing longer-range trends, it would appear that the red-hot nature of the real estate market has cooled a bit compared to our dramatic performance in 2018. Despite more homes offered for sale, the number of homes under contract in January of this year dropped almost 30% from the same time last year (17 versus 12) and the number of solds over 13% (15 versus 13).
It appears that the Almaden Valley single home market is transitioning from being controlled by sellers to a more balanced market. The drop in price per square footage that we saw in January (down from $681 in December to $642 and down from $672 in January 2018) bears this out.
Homes are remaining on the market for longer as well. We saw a rather dramatic jump in days on market in December (31 days) to January (51 days). Contrasting last month to the same time in 2018, we see an even more dramatic jump from 20 days.
What does this mean for home sellers in Almaden Valley? Selling a home may take longer and prices are quite possibly not going to go as high as last year's record high ($757/sq ft in June 2018), so try to catch the spring market if at all possible. There was a lot of rain in February, but as soon as the sun comes out, I am sure we will see dramatic improvement. If you have any questions or are ready to make a move, give me a call!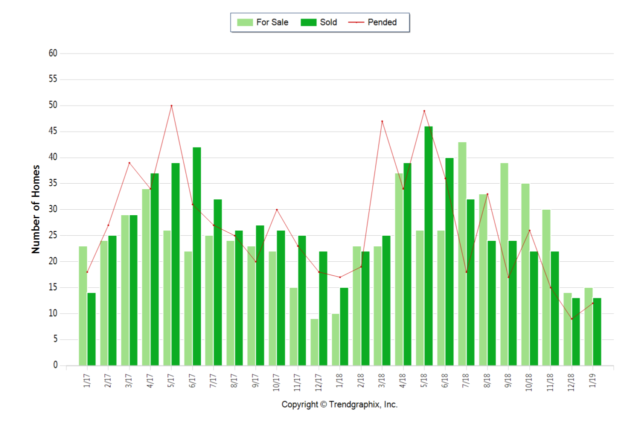 /wp-content/uploads/2014/06/The-Swan-Trans-21.png
0
0
Therese Swan
/wp-content/uploads/2014/06/The-Swan-Trans-21.png
Therese Swan
2019-02-28 22:00:33
2019-03-01 19:56:33
January 2019 Almaden Valley Real Estate Market Update