Happy Holidays, Almaden Residents!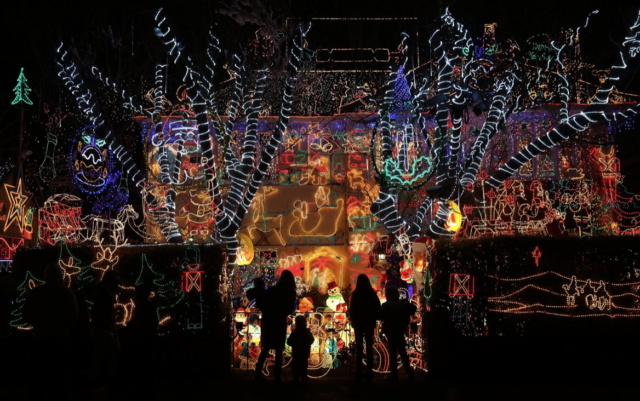 Merry Christmas and Happy Holidays, Almaden residents! This holiday season is like no other, but there is a lot of cheer right here in Almaden. Driving around or walking the streets to view the beautiful neighborhood holiday lights displays have always been a favorite activity for most families. This year too, despite many constraints, some of our wonderful neighbors have outdone themselves to provide safe holiday display viewing experiences to everyone.
Lucas Guazelli, a high school senior, has been putting up his holiday sound and light show for the last six years at 1398 Medallion Drive. The show will run from 5:00 pm to 10:00 pm every night. Says Lucas on his Nextdoor post, "It features 10,000 lights sequenced to music from Star Wars to Frozen 2. Tune into the music via FM radio on your car." The frequency is displayed at the address.
Raymond Burleigh has his annual holiday lights show up this year, too, at 6367 Vegas Drive. Says Raymond on his Nextdoor post, "Lots of new lights and graphics this year, and an expanded selection of songs to play from the button box." To hear the music, tune the radio to 88.7 FM in your car. The lights will be on through New Year's Eve. This year Raymond is also requesting everyone who enjoys the lights to show their appreciation by supporting the American Diabetes Tour de Cure fundraiser at http://main.diabetes.org/goto/rayspage The contributions go to the American Diabetes Association.
So enjoy these and many other beautiful holiday displays from our wonderful neighbors at Almaden. For those driving through the neighborhoods, be sure to check out the holiday lights cheer map on https://nextdoor.com/cheer_map/?is=nav_bar to get the best out of your tour.
Let's all stay safe, happy and healthy while enjoying the holidays and ringing in the new year.
/wp-content/uploads/2014/06/The-Swan-Trans-21.png
0
0
Therese Swan
/wp-content/uploads/2014/06/The-Swan-Trans-21.png
Therese Swan
2020-12-24 17:07:06
2022-04-27 19:37:57
Happy Holidays, Almaden Residents!