2012 Relay for Life of Almaden: Movement to End Cancer – UPDATED 2022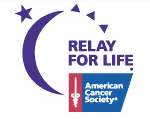 Help the American Cancer Society save lives by joining Relay for Life of Almaden Valley.
Relay for Life brings together people to celebrate the lives of those who have battled cancer, remember loved ones lost to the disease, and fight back against a disease that takes too much.
Teams of people camp out at Leland High School and take turns walking or running around the track. Relays are 24 hours in length; representing the reality that cancer never sleeps. The event includes a number of activities, live entertainment, and celebrities.
By participating, you honor cancer survivors, pay tribute to the lives we've lost to the disease, and raise money to help fight cancer in Almaden Valley.
Relay for Life is more than just a fundraiser. Every person who participates joins others around the globe as part of this worldwide movement to end cancer.
Anyone can form their own team and participate in Relay for Life of Almaden. Friends, families, neighbors, colleagues, classmates, sports teams, etc. No matter who you are, there's a place for you at Relay.
Each person who shares the Relay experience can take pride in knowing that they are working to create a world where this disease will no longer threaten the lives of our loved ones or claim another year of anyone's life.
Relay for Life of Almaden is at Leland High School in Almaden Valley. The event begins Saturday, May 5, 2012 at 10am and ends Sunday, May 6, 2012 at 10am.
The first Team Captain Workshop is at Penny Fraley's house located at 6672 Crystal Springs Drive in Almaden Valley on February 16, 2012 at 7:30pm. Get involved. Join an existing team or form a new team.
Volunteers are needed. If you would like to volunteer or for community service hours,a please contact Jennifer Caselli, Event Chair, at 408-472-3420 or Paula Myers, Volunteer Coordinator, at 408-315-1907 for more information. [EVENT IS CLOSED]
/wp-content/uploads/2014/06/The-Swan-Trans-21.png
0
0
Therese Swan
/wp-content/uploads/2014/06/The-Swan-Trans-21.png
Therese Swan
2012-02-11 01:48:49
2022-04-17 09:40:12
2012 Relay for Life of Almaden: Movement to End Cancer – UPDATED 2022