September 2016 Almaden Valley Real Estate Market Update
September 2016 Almaden Valley real estate market update… Market data for Almaden Valley real estate indicates that we are experiencing our seasonal cooling. The number of single family homes on the market, under contract and sold has decreased from August to September in the normal, predictable pattern we see during the fall/winter holidays.
When we compare September 2016 with September 2015, we see a couple notable details. Although the number of homes offered for sale remained virtual unchanged from last year, the number of homes under contract is up a whopping 68.4%, from 19 a year ago to 32 last month. This number is likely due in large part to the dramatic upswing we saw last month in homes that went under contract as well as the number of sales.
The price per square foot for Almaden Valley single family homes edged downward a little over 1% from August and is down about 2% from the previous year. Although this might sound concerning, it is most likely nothing more than the dance of supply and demand. Up until spring of this year, buyers dominated the market for a long time due to the relative scarcity of homes offered for sale, driving up home prices as buyers competed to buy. Around April 2016, we saw a sudden increase in the number of homes offered for sale, which peaked in July. This sudden influx of inventory swung the proverbial pendulum from favoring sellers due to low inventory, to favoring buyers who now had a much larger pool of possible homes to purchase and create downward pressure of price.
Although buyers and sellers tend to withdraw from the market during the holiday season (which is why we see a cooling trend this time of year), this can be a perfect time to purchase a home. Competition is less keen and prices are attractive. If you are thinking about purchasing a home in Almaden Valley, contact me and let me show you how I can help make your dream home a reality.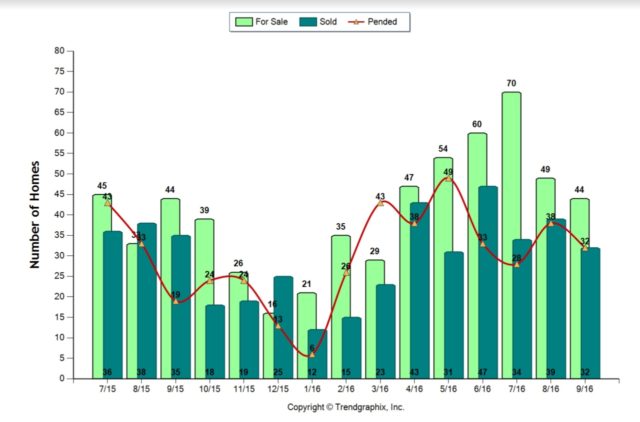 /wp-content/uploads/2014/06/The-Swan-Trans-21.png
0
0
Therese Swan
/wp-content/uploads/2014/06/The-Swan-Trans-21.png
Therese Swan
2016-10-12 07:47:10
2022-03-23 20:39:03
September 2016 Almaden Valley Real Estate Market Update