Almaden Community Center Fall 2018 Catalog – UPDATED 2022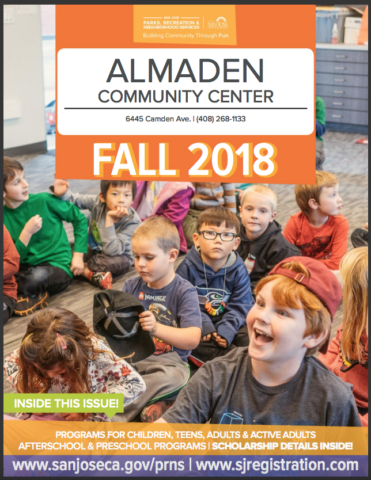 [CLICK HERE FOR ACCESS TO MORE RECENT ALMADEN COMMUNITY CENTER ACTIVITY GUIDE.]
The Almaden Community Center Fall 2018 Catalog is here, with a host of exciting new activities and programs lined up, including…
Art Start by CLAP (ages 3 – 5) – This activity focuses on developing fine motor skills through drawing, textures, collages and other art techniques. All material provided.
Cartoon Animation by Young Rembrandts (ages 7 – 14) – Develop a sense of humor by learning how to draw and illustrate goofy expressions and hilarious situations in cartoons.
Junior Chemical Engineering: Crazy Connections by Engineering for Kids (ages 5 – 7) – Experiment with bubbles, playdough and other material to learn more about solids, liquids and gases.
Chemical Engineering: Mix it Up by Engineering for Kids (ages 8 – 12) – Create your own rocket fuel or find out the secrets behind color pigmentation. Participants will use various ingredients to create mixtures, solutions and learn about chemical reactions.
Little Wilderness Medicine by Little Medical School (ages 5 – 12) – Learn valuable outdoor skills including how to deal with weather exposure, snake bites and other outdoor emergencies in this cool program about Wilderness Medicine.
Minecraft, Animated! By Techsplosion (ages 5 – 11) – Make fabulous stop-motion animated movies and create life-like sets using cameras and Minecraft characters.
Junior Wedo Lego Robotics: Robots in Motion by Engineering for Kids (ages 5 – 7) – Learn to use and program with Lego Wedo Robotics 2.0. After completion, kids can move on to Robo Battles.
Ninjago Workshop Using Lego by Play-well Teknology (ages 5 – 8) – Help defeat the evil Lord Garmadon by building cool Lego Ninjago machines and tools!
/wp-content/uploads/2014/06/The-Swan-Trans-21.png
0
0
Therese Swan
/wp-content/uploads/2014/06/The-Swan-Trans-21.png
Therese Swan
2018-08-11 19:36:03
2022-03-31 20:04:22
Almaden Community Center Fall 2018 Catalog – UPDATED 2022