Almaden Valley Art & Wine Festival 2019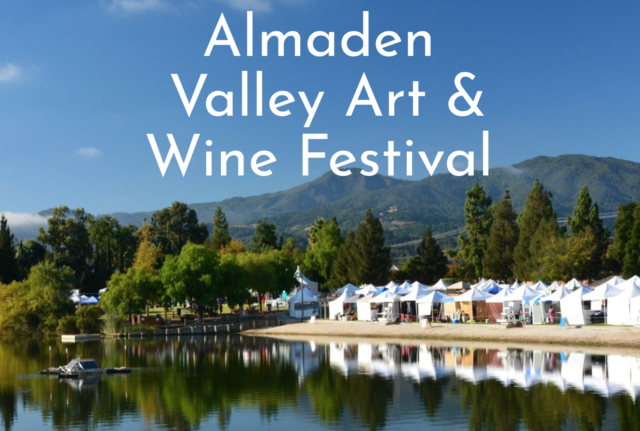 Almaden Valley is buzzing with excitement. One of the community's biggest events, the 43rd Annual Almaden Valley Art & Wine Festival 2019 unfolds this weekend. On Sunday, September 15th, 2019, from 10 a.m. to 6 p.m., the serenely beautiful Almaden Lake Park will be a beehive of activity, buzzing with families, performers, artists and wine enthusiasts.
Neighborhood artists will showcase their work, local vineyards will host sampling booths serving boutique wines, and patrons will be able to enjoy the pristine surroundings of Almaden Lake Park, sipping wine, listening to music or watching performances.
This year's performers include Team M Taekwondo, Aerial Tumbling and Acrogymnastics, Almaden Spirit Athletics, Willow Glen High School Spirit Squad and Leland High School Dance team, besides the various local music bands.
There will be food trucks serving a variety of cuisines, with the new addition this year being Indian cuisine. There will also be a Kids' Fun Zone, with a rock-climbing wall, bounce houses, arts and crafts, face painting, and a children's stage. Performers in this arena will be Shaolin Kungfu Martial Arts, Little Gym and Leland Robotics.
The Almaden Art & Wine Festival is organized by the Almaden Valley Women's Club, a non-profit organization in Almaden. They provide grants and aid to a wide range of organizations as well as some local schools. So, come and enjoy this beautiful fall festival with your family and friends.
At a glance:
When: Sunday, September 15, 2019, 10:00 am to 6:00 pm.
Where: Almaden Valley Lake Park
For more details, visit: https://www.almadenwomen.org
/wp-content/uploads/2014/06/The-Swan-Trans-21.png
0
0
Therese Swan
/wp-content/uploads/2014/06/The-Swan-Trans-21.png
Therese Swan
2019-09-13 13:27:50
2022-05-05 16:33:09
Almaden Valley Art & Wine Festival 2019